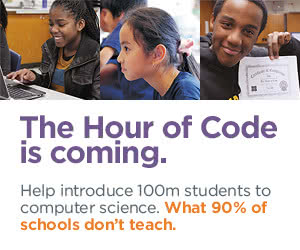 The Hour of Code is a global movement reaching tens of millions of students in 180+ countries. It is a one-hour introduction to computer science, designed to demystify code and show that anybody can learn the basics. Anyone, anywhere can organize an Hour of Code event. One-hour tutorials are available in over 30 languages. No experience needed. Ages 4 to 104. Last year 15 million students worldwide learned an Hour of Code.
The Hour of Code is organized by Code.org, a public 501c3 non-profit dedicated to expanding participation in computer science by making it available in more schools, and increasing participation by women and underrepresented students of color. An unprecedented coalition of partners have come together to support the Hour of Code, too — including Microsoft, Apple, Amazon,Facebook, Google, Yahoo, Linkedin etc.
JOIN THE LARGEST LEARNING EVENT IN HISTORY, DEC 8-14, 2014. SIGN UP to host an Hour of Code event here-
http://hourofcode.org/
and start planning. You can organize an Hour of Code event at your school or in your community like in an extracurricular club, non-profit or at work. Or, just try it yourself when Dec. 8 arrives.